"If you help enough people get what they want, you will get what you want." ~ Zig Ziglar
To be a financially free entrepreneur at the age of 23 is no small feat. 
But that's exactly what Morgan Nelson has achieved…
When he became a multi-6 figure entrepreneur through network marketing. 
And aside from speaking and hosting his own events or running his business…
His true passion comes out when he hosts his wildly successful podcast "Dreaming Out loud with Morgan Nelson". 
The podcast where he teaches young visionaries to level up their income and mindset so they can live the life that they always wanted. 
In just under 90 days after launching… it was ranked top 100 in several countries including Canada, Australia, New Zealand and Europe.
And today, he is on a mission to create 1000 online 6 figure earners under the age of 35.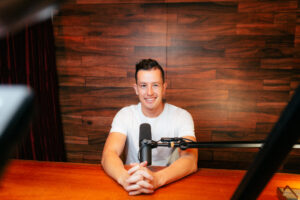 From Broke to Financially Free Entrepreneur At The Age of 23
"I started with just a $200 mic" 
That's what Morgan said to me when I asked him about how he first started his podcast.
And seeing just how big his podcast is today just goes to show how a small idea can turn into a global force if you give it your all. 
In fact, this has been the theme throughout his life. 
When Morgan finished school, he had no direction in his life. 
All he knew was that he had always dreamt of living a life where he could travel the world and create amazing memories with friends. 
But when he found himself in an apprenticeship as a carpenter, his life didn't look very bright. 
He was trading 60+ hours a week of his life to a career where he was "treated like shit". 
At age 21, he was just your average Joe looking for the clear path to freedom and being surrounded by amazing people. 
That dream of his started to come into fruition when a friend of his introduced him to network marketing. 
What really sold Morgan into it was the fact that he could start building his financial future part-time from home…
And be a part of a supportive group of people, pursuing their dreams just like him. 
During his network marketing career, he developed himself as a person. 
He had sacrificed short-term freedom for a while. 
People around him had told him that he was falling for a scam. 
His response? 
"The system has already scammed you with the 9-5 and education system". 
With dedication, consistency and an epic dream that pushed him through his challenges…
Morgan had made enough as an entrepreneur to quit his job and build a life where he gets to travel around the world with his team. 
In just 2 years, he had become financially free. 
Oftentimes, we see opportunities around us that can lead us to the life that we want. 
But we hesitate. We fail to act because of fear…
"What if I fail?" 
"What if I embarrass myself?" 
We wait for the right time, for all the stars to be aligned before we take action. 
So the best solution to these fears? 
"Just take messy actions"
This has been Morgan's key to success. 
Because the truth is…there is no such thing as the right time. 
You either take the action and figure it out along the way…
Or you wait until your dreams get crushed because of years of inaction. 
The One Mistake That Beginner Entrepreneurs & Podcasters Make (which stunts their growth)
As the host of a top 100 ranked podcast in multiple countries…
There's no shortage of DMs asking him for advice and mentorship on building a successful podcast. 
And his answer is always the same…
"Come back when you have 20 episodes"
Most people get impatient and they don't stick long enough before they quit. 
Success is like a bamboo tree. 
A bamboo tree must be consistently taken care of for 5 years before it sprouts from the ground.
From there, it only takes about 6 weeks till it grows 90 feet tall. 
So while you may not see big results at first as an entrepreneur…
When you have the resilience and mental fortitude to go for what they truly want (like creating more podcast episodes consistently)…
That's when you'll start to see explosions in growth. 
Whatever you do in life, you will reach a point where it gets too uncomfortable. 
This is where most people will quit. 
But Morgan was willing to do whatever it took to reach his goals. 
"I went as far as calling Les Brown's personal number and saying, "Hey this is Morgan from Australia". 
To Fail Is To Succeed As An Entrepreneur 
How do you see failure as an entrepreneur? 
Do you see it as a sign that you just quit? 
Or do you see it for what it actually is…FEEDBACK? 
Because those who truly fail are the ones who see failure as a sign to quit? 
But those who succeed see failure as a sign of IMPROVEMENT! 
And improvement is what leads to true sustainable success as an entrepreneur. 
"Take messy actions, get feedback, and course-correct…I'd rather lose and give it my absolute all than play it safe and get by comfortably"
This is the mentality that separated Morgan from the rest at such a young age. 
Instead of avoiding failure, failure should be encouraged among your peer group. 
In fact, this is how much he values failure…
"If you see something in me that I should be doing and I found out that you knew and you didn't tell me. I'd be pissed off"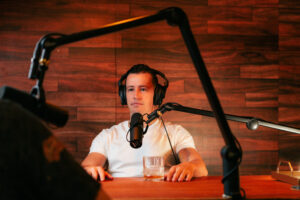 Getting Access To Top Tier Networks 
You've most likely heard that "you are the average of the 5 people you hang around with". 
Your success and the legacy you create as an entrepreneur depend on who you surround yourself with. 
But here's the one question that needs to be answered…
How do you gain access and connect with the people who are above you and who have the life that you want to live? 
This was a question that Morgan wanted to answer. 
When he went back to his hometown in Australia after living in Bali for some time…
He noticed that his old friends were the exact same people as when he left. 
And because Morgan was all about growth and never staying still…
He looked for people who would fit his future vision rather than his past. 
The only problem was that he had to figure out how to get around those people without getting kicked out. 
So he resorted to what he knew best…
Giving value and expecting nothing in return. 
This is how he built an impressive network of A-players who he calls his "friends". 
From there, Morgan was able to have amazing guests come on his show. 
"That's the benefit you get for being a good person and legitimately wanting others to win"
He has since interviewed an impressive lineup of some of the top entrepreneurs of the world including…
Peter Taunton (founder of Snap Fitness, a Global brand with 2000+ locations worldwide)

Michael Lane (owner of Success Resources, the world's largest education seminar company)

John Lee (Global Motivational speaker who has shared the stage with Bill Clinton, Richard Branson, Jack Welch, and many more) 

Emily Vavra (Built one of the largest Network Marketing Organisations)

Joel Brown (founder of addicted to success, world's #1 motivational website with 320 million+ views)
On top of that, Morgan talked about how he and Joel were mates…
But because of the podcast, he was able to speak on world stages alongside Joel. 
Having a podcast is so powerful because it gives you direct influence and authority. 
In fact, if it wasn't for his podcast he and I probably wouldn't have met. 
And this article that you're reading right now wouldn't exist. 
The 2 Step Method To Making $40-50k With a Podcast In His 7 Months 
"You can't make any money with a podcast". 
This is a common belief that stops people from going into podcasting. 
But the truth is, Morgan didn't create his podcast for the money. 
Because if you're going in thinking about the money, you won't get very far. 
Morgan was driven by this one question…
Why do some people live a very happy life where they have freedom of choice…But everyone else is bound by their limitations? 
Limitations in their money, relationships and themselves.
It was because of this question that Morgan set out to create his "Dream Out Loud" podcast.
His mission is to educate and inspire young people all over the world to break through their victim mindset and limitations…
So they can build a life where they have freedom of choice.
When building a podcast, you have two options.
You can take the long and hard route to have a successful podcast… 
Get a minimum of 10,000 viewers per episode (which will take you years to build) 

Run ads on your show and sponsor other people's products
Or you can take the smarter, easier and more sustainable route. 
It's the exact route that he taught his friends…
Who wanted to know how to have their own successful podcast too. 
If Morgan were to start all over again, this is what he would do…
Build an audience

Solve problems for them and give them what they need
You can do this in the form of paid masterminds or coaching. 
This general 2-step method led his podcast to make $40-50,000 in its first 7 months of launch. 
It's more fun. It's faster. And it's a more sustainable way of growing your podcast. 
You also don't have to annoy your viewers with ads. 
One of his friends grew their podcast to the #3 spot in the global business category in his first week of launch. 
Another grew their podcast to 25,000 downloads in their first week as well. 
And it's because of these results that Morgan is creating his own podcast mentorship program. 
DM Morgan Instagram the word "PODCAST" to learn more about his mentorship program
Interviewed by Wade Foxx