"My dream is to come back into a building and see my artwork hanging on somebody's wall" 
As Richard Hutchins (62 years old) saw the unveiling of the canvas in front of him which said "featuring world famous homeless artist Richard Hutchins"…
The very words caused an overwhelming sense of joy within him. 
Richard, once known by his alias, "Drew Hill – the celebrity artist" had created paintings for celebrities like Burt Reynolds, Marvin Gaye, Muhammad Ali, Richard Pryor, Robert Dinero, Halle berry, Lawrence Fishburne. 
He had it all and was at the top of his game. 
But after his fake identity was exposed and a series of unfortunate circumstances, he had lost everything and became homeless for 6 years. 
"I haven't seen my work hanging on a wall since 2014". 
Instead of focusing on creating beautiful artworks, all he could think about was how long he would survive as a homeless man. 
But as Richard said those very words to Charlie Rocket, Founder of the Dream Machines Foundation, little did he know that his whole life was about to change.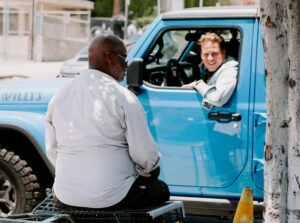 Photo Credit by @charlie
Charlie and his team have travelled 100,000 miles across the country to help facilitate the magic of hope and dreams in every community they visit. 
They generate hundreds of millions of views on their original content for brand partners along the way.
And when Charlie approached Richard on the streets and heard his story…
He made it his mission to get Richard off the streets and bring his dream into reality. 
On the 24th of June, 7 pm to midnight, Richard's dream becomes exactly that…a reality. 
A red carpet event has been created for Richard to showcase his artwork inside the Sofitel hotels and resorts – Los Angeles Beverly Hills…
Alongside famous artists Ruben Rojas and Richard Orlinski. 
100s of people have been invited and celebrities will be attending, famous artists and live auctions will be taking place. 
On top of that, when Charlie shared his story to the world…
Richard had surpassed $100,000 in sales for his artwork in just 5 days during a global campaign to get him off the streets. 
(Link on the bottom of this article to buy his artwork)
Today, he no longer needs to hold up a cardboard sign that says "homeless vet, need help". 
Instead, he is now holding up a sign that says, "I'll never be BACK HERE unless I'm helping the next man STANDING HERE". 
This inspiring tale of a homeless man who became a global artistic sensation showcases just how life can turn around in an instant as long as you keep fighting for your dreams. 
A Rough Childhood 
Even before he was homeless, life was not easy for Richard.
Especially if you're a young black child growing up in Georgia during the 60s…
And you were forced into foster care with nothing due to your dad leaving and your mom never being around. 
Richard's hatred for his parents was so deep that it pushed him to create a fake name for himself (a fake name that would have major consequences for his future). 
As a teenager, he had no one to lean on, nowhere else to go. 
In those moments of confusion, loneliness and uncertainty, all he wanted to do was feel like he belonged somewhere. 
And eventually, he got connected to a group that allowed him to make money, drive nice cars and make him feel like he made something of himself. 
But it was also the same group that would later land him in prison multiple times for white-collar crimes. 
As Richard went through life, he was regularly in a state of discomfort. 
He never had anybody to fall back on. 
No real family. No real friends. 
He found that when you have nothing and you are down…
"People will only listen to you if you make up lies and tell them things they might be interested in". 
Living With a Fake Identity 
Having an intense passion for something can get you even through the hardest of times. 
And Richard is a great example of that when he fell in love with making art. 
He didn't think people would be interested just in his art alone. 
So he created a compelling story around his work. 
But his story was wrapped in a bag of lies. 
He made up the story that he was former NFL player Drew Hill and now he is a painter. 
At first, it was going really well for him. 
A local studio called Infinity Studios was so impressed by the work that they invited him to work in their studio. 
His career only exploded from there. 
Celebrities like Muhammad Ali, Laurence Fishburne, Richard Pryor, Burt Reynolds, and more came to purchase his art.
And as word spread, he became famously known as 'Drew Hill – the celebrity artist'. 
But in his rise to superstardom, he knew he was making an unforgivable mistake. 
And If someone found out, his career would take a turn for the worst. 
With all the excitement going on around him, however, he figured he would keep quiet and continue living out his life. 
In an instant, his whole life crashed down in front of him. 
An LA Times reporter discovered that he wasn't who he said he was. 
And the article that he wrote which exposed the truth sent Richard back to prison once again. 
In this instant turning point of his life…
Richard had to come to terms with the fact that he had been wearing a mask all his life. 
He had never used his real name since he was a child. 
And from that point on, Richard had a decision to make. 
He could keep living his life with a fake identity. 
Or he could stop running away and live his life as his true self: Richard Hutchins. 
He dropped the mask and chose the latter. 
He vowed to stop running…to make no more lies. 
And from that point on, He wanted to be known to the world as one man and one man only: Richard Hutchins. 
Putting Down The Mask 
His time in prison wasn't just the push he needed for him to stop running away from his real identity. 
It also served as a bedrock for inspiration. 
Richards didn't have an art studio. 
He didn't have all the tools that he needed at his disposal to create his stunning paintings. 
So he got creative with what he had…
Stacks of envelopes, M&M's, Skittles, Koolaid, Toothpaste and Coffee Grinds.
The envelopes were the canvas. 
And once he had made his artistic envelopes, he put a postage stamp on it and mailed it out to people.
Word spread around. 
And people were so in awe of his stunning artworks that it inspired an entire art event, showcasing his artistic envelopes, while he was still in prison.  
View this post on Instagram

Today, they are on permanent display at the UC-Santa Barbara library. 
From Homeless to $100,000 Art Sales in 5 Days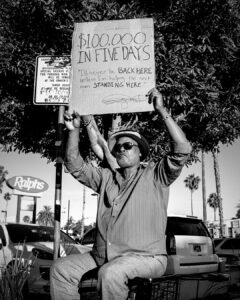 Photo Credit by @charlie
When he was released from prison 6 years ago, he was ready to embrace the next chapter of his life. 
A life where he didn't need to run away from who he was anymore. 
A life where he finally believed he was good enough to be Richard Hutchins. 
Not too long ago, he lost his art studio in a fire in Santa Monica. 
And being a homeless man meant that he couldn't devote 100% of his energy to his art. 
Instead, all he could think about was where his next meal would come from.  
"I don't want to go back down to Ralphs and sit back down on that cart. I miss making people happy".  
That's what he said to Charlie Rocket before he and his team spread his story to the world…
Changing Richard's entire life in an instant when he racked up $100,000 in sales for his original paintings in just 5 days. 
Here are just some of the most recent events that have occurred so far. 
Will Smith shared Richard's video to 50,000,000 followers. 
Steve Harvey bought an original painting from him. 
A friend of Dr Dre just shared a video with Dr Dre. 
The whole world is watching this story unfold. 
And by selling his art, with the support of Charlie, his team and the support of the entire world, he'll be able to get back on his feet again and "make people happy" without the threat of being homeless. 
In the red carpet event, Richard's envelopes will be the centrepiece as he'll be showcasing the works he created in prison. 
Don't be surprised if you see some of Los Angeles' biggest celebrities and influencers attending the event as well. 
Conclusion – Never Stop Fighting For Your Dreams 
Richard Hutchin's story is a megaphone to showcase how your life can change in an instant…
Even after years of hardship. 
As long as you continue to fight for your dreams, the right people and the right opportunities will eventually show up.  
Charlie Rocket and his dream machine foundation are on a mission to use their global influence to help people around the world to dream again.
"We want to give to communities and people who could use it most. We want people from all walks of life to come together to reach for the stars and not give up on themselves" ~ Charlie Rocket
Click this link to check out Richard's beautiful original artworks. 
Every purchase helps Richard to get off the streets and continue making amazing works of art for the world. 
Take a look at what's to come inside this life-changing red carpet event. 
Follow Charlie Rocket on Instagram to see him touring across America making dreams come true.
Article by Wade Foxx