"I get my ideas from everything. Day to day magazines. Movies. Things I see on a day to day basis. It starts ticking away like 'oh I could do this I could do that". 
Never did Cristian and his wife Dorina Cocolea think that in just one year of opening up their art and furniture design business…
They were going to work with celebrities such as Floyd Mayweather, Peter Marko and Jeff Hamilton…
And that their art pieces would be displayed by some of the biggest galleries in Europe. 
Yet, that's exactly what transpired.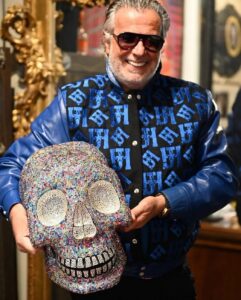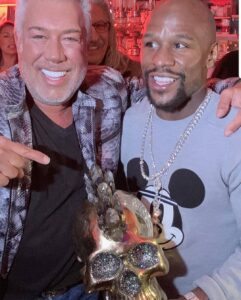 As the co-founders of Cool As Foc Art & Cocolea Furniture, Cristian and his wife express their passion for creating beautiful, opulent and unique custom designs. 
"I saw that people needed popart style or something really quirky for their furniture so I started making things that I thought were cool". 
As Cristian posted unique artworks into the Cool As Foc Art Instagram profile, more and more people rang him up expressing how impressed they were. 
"I told them that I could make a custom piece for them". 
And from there, the demand for their brand exploded. 
Making a name for yourself in business
While I was interviewing Cristian, there was a statue behind him of a golden skull wearing sunglasses, a Rolex watch, a suit and was holding an assault rifle. 
Cristian mentioned how it was made of gold and crystals. 
Inspired by the iconic "say hello to my little friend" scene from the movie Scarface, this golden skull signature piece became a staple that brought in much more attention to the Cool As Foc Art brand. 
The business is dedicated to creating custom artworks that are unique and "one-off" that you can proudly display in your home.
These pieces become immediate talking points that stand out for whoever steps foot inside your home.
Moving forward despite the self-doubts 
Every business success story began with humble beginnings. 
These furniture pieces require a lot of money and time to be put into their development. 
And when Cristian was starting out, he had doubts on whether they would even sell or not. 
He created his first piece, then his second piece, and so on. 
He kept going regardless of the outcome. 
Naturally, the more art pieces were created and promoted on the brand's Instagram profile, the more eyeballs and demand the brand received. 
Eventually grabbing the attention of celebrities and high-income clients, he has been working on these pieces nonstop ever since, sometimes even struggling to "keep up with the demand". 
Covid and the Art Industry 
Even with millions of businesses affected by the Covid pandemic, Cool As Foc Art was still going strong. 
The art pieces are dependent on his buyers seeing them on the brand's Instagram – which is an element that is not affected by the pandemic. 
Cristian mentioned how "It actually gave me more time to work on them".
The only problem was that people couldn't come into the shops and touch the pieces which take away from the buying experience.
"Art is one of those things where you want to see it in person". 
Despite that, the beauty of these custom art pieces can still be emphasized through high-quality pictures and videos.  
Even before the pandemic, the art industry has already been moving towards a digital landscape. 
After the pandemic, the art industry as a whole will continue to have digital disruptions with elements such as provenance trackers, collection management systems and virtual reality gallery experiences.  
Value comes from rarity 
Rather than mass-producing these art pieces, the brand leans more towards limited edition pieces. 
"People want to feel different…we never want to make the same pieces twice". 
When there are only a few people in the world that have the same piece as you, the value of the piece goes up due to its rarity. 
We talked about how a Michael Jordan card was worth twenty dollars decades ago but is now worth thousands. 
Nowadays, people are taking their physical artwork or any piece of value that they create and turning them into NFTs to inject even more value into them.  
Next steps 
Cool As Foc Art has already been recognized by big-name celebrities and some of the biggest galleries in Europe for their unique custom pieces, despite only being in business for over a year.  
This level of momentum will most definitely serve the brand as Cristian plans to tap into the American Market. 
Follow the official Cool As Foc Art Instagram profile as well as the website for beautiful custom art pieces.